Tonight I've been thinking of where I've been since I left home 637 days ago. First, I knocked off the remaining European countries I hadn't been to before heading into Asia for the first time in my life. Here goes:
Newcastle, England
Aberdeen, Scotland
Lerwick, Shetland
Torshavn, Faroes Islands
Seydisfjordur, Iceland
Eglisstadir
Dalvik
Seydisfjordur
Hanstholm, Denmark
Thisted
Aalborg
Frederickshavn
Gothenburg, Sweden
Malmo
Karlshamnn
Klaipeda, Lithuania
Liepaja, Latvia
Riga
Tallin, Estonia
St Petersburg, Russia
Moscow
Ekaterinburg
Irktusk
Lastyvanka
Lake Baikal
Ulan Bataar, Mongolia
Terelj National Park
Beijing, China
Shanghai
Chongqing
Wuhan
Huangshan Mts
Shanghai
Osaka, Japan
Hiroshima
Shimonoseki
Pusan, South Korea
Seoul
Kunming, China (first flight)
Dali
Chiang Mai, Thailand
Lijiang, China
Tiger Leaping Gorge
Shangrila
Xiancheng
Litang
Kangding
Chengdu
Wuhan
Shenzen
Hong Kong
Cebu, Philippines
Malapascua Island
Singapore
Melaka, Malaysia
Kuala Lumpur
Kuching, Sarawak, Borneo
Bako National Park
Pangkor Island
Penang
Hat Yai, Thailand
Krabi
Phuket
Ranong
Ko Chang
Hua Hin
Bangkok
Khorat (Udon Ratchasima)
Surin
Siem Reap, Cambodia
Phnom Penh
Ho Chi Minh City, Vietnam
Mui Ne
Dalat
Buon Ma Thout
Kontum
Quang Ngai
China Beach
Hue
Xepon, Laos
Savannakhet
Vientiane
Vang Viang
Luang Prabang
Pakbeng
Hou Xai
Chiang Kong, Thailand
Chiang Rai
Mae Sai
Mae Salong
Chiang Mai
Pai
Mae Hong Son
Ban Nai Soi
Ban Rak Thai
Mae Sariang
Chiang Mai
Kalisin
Bangkok
Yangon, Myanmar
Bago
Kalaw
Inle Lake
Nuang Shwe
Mandalay
Bagan
Yangon
Bangkok, Thailand
Pattaya
Bangkok
Kuala Lumpur (stopover)
Jakarta, Indonesia
Pangandaran, Java
Kuta, Bali
Ubud, Bali
Jakarta, Java
Manila, (stopover)
Taipei, Taiwan
Shulin
Danshui
Cigu
Budai
Jiading
Alishan
Guanzilin
Manila, Philippines
Peurto Galera (Sabang)
Calapan
Victoria
Murangan
Calamba
Santa Cruz
Cigu, Taiwan
Manila, Philippines
Cigu, Taiwan
That's a canny trip eh? Do you know how much it has cost? About £9,200. Not bad for 1yr 9mth of travelling. This is the total amount of money I've withdrawn from ATMs plus online flight purchases. However, I worked for three months in Taiwan where I never actually had to go to the ATM at all. Currently, studying Chinese in rural Taiwan is costing hardly owt. I'm also living rent-free here in Taiwan at my girlfriend's house. This is despite my offers of money every month that she refuses to take - that's Chinese hospitality for ya! I take her out for many nice meals to offset this. If I didn't like beer so much this figure would be even lower!
So, I'm wondering when I'm going to go to India, Nepal, Oz, NZ and Fiji before hitting South America. I should've done all that by now but I've been impeded in Asia. I love Asia too much. I can't even decide which country I like the best. I love them all.
This review has put me in a great fettle and renewed my hunger for exploration again. Aaaaahhhh, the World's too big. The problem now is that I've met somebody special. This has thrown a big spanner in the works. I'm begging her to quit everything and come with me. However, she thinks we should sit tight in Taiwan and see what happens with my potential yacht job this summer. I'll keep doing monthly visa runs to the Philippines for the forseeable (if my work permit doesn't work out). Having said all that, who knows where I'll be 1 month from now? My life has been pretty wild for the last couple of years and I love the feeling of the future being a mystery!
I still dream of hiking the Inca trail, floating down the Amazon, trekking through Patagonia and Andean glacial mountains, sailing to Antarctica and chilling on a beautiful Pacific Island paradise somewhere.
We'll see.
Pack in your stressful UK lives and come and join me in Asia. That pile of bricks that you live in and are slaving away to pay for is, at the end of the day, a shitty pile of bricks. Who'll give a shit you owned a house when you're dead? Forget the shit weather, council tax, traffic jams etc and come and live the dream. Remember, Asia rocks!
再见
Angry old boss
Well, I appear to have a lot of time on my hands at present due to my inability to obtain a work permit. I tried to rectify this yesterday but didn't get too far. I phoned the Council of Labour Affairs and enquired how I can resolve this 'being black-listed' issue. They said I had to contact my ex-employer and try to reach some kind of agreement as it is them who've reported me. So, I fretted for an hour about speaking to my old boss who I shat on back in December by doing a devious flit. I finally dialled her number. My worries were justified. The conversation went something like this:
"Wei"
"Hello, can I speak to Mandy please?"
HANGUP.
I tried again but this time she didn't even pick-up. I sent a grovelling text saying 'sorry, sorry, sorry, sorry'. Again, no response. I can only conclude that she's not my best mate! I'll keep you posted on any further developments concerning my perpetual struggle against the Taiwanese bureaucratic machine.
I acknowledge this is all my own doing. I reckon I'm reaping what I've sowed. My karma is being rebalanced: I shat on somebody, so my karma is currently in a mess. My ying and yang are probably in an atrocious state of affairs too.
By the way, 'Wei' is Chinese for 'Hello' when answering the phone. It's pronounced like the 'Wey' from 'Wey aye man'.
Last night I had a steak with an eat-all-you-can salad. £3 class! I then went to a dentist to try and sort my mouth out. Complete waste of time as I suspected it would be. This bloke poked around in my mouth and said:
"There's nowt I can do son"
"Well, cheers for that then"
Miserable Ukrainians
I saw some Westerners around here a few days ago. They came to wor lasses shop to buy some tabs. I went to serve them, quite excited to meet my first white faces in ages. I aksed where they were from and they stared at me blankly: "No Angleeski". They asked for tabs in what sounded like an eastern European accent. I immeadiately thought 'Russian' and alarm bells started ringing. I then noticed how miserable their faces were and thought: 'Just be quiet, give them the tabs and get out of their negative auras quickly'. It turns out they were Ukranian, doing an acrobatic show at a nearby tourist place. The locals have seen them a few times and confirmed that nobody has seen them crack a smile! Bloody typical. My first 'Western' encounter was with miserable Ukrainians. It reminded me of Russia and how nice it was to leave.
Diary
I've been reviewing my diary. I've tried to upkeep it since a lady called Cath gave it to me in Tallin, Estonia 4/7/06. She'd toured the Baltic states by car. We were chatting about her impending return to England while I was about one month into my own trip. She was interested in my plans and asked if I had a diary. I didn't, so she gave me an empty book. I've managed to keep it going with a little comment everyday for 637 days. Thats how I know I was scoffing a Marijuana pizza on 8/3/07!
Manila visa run
I've organised five days of activities for my imminent visa run to the Philippines. I'm going to meet Don in Calapan before catching a jeepney to Puerto Galera where we'll spend three days drinking on floating bars while watching fit birds in gogo bars at night. Cool. I'm glad that's sorted. Hopefully I can find out more about this yacht job in the summer.
Inappropriate attire
I saw something today on the way back from the supermarket. A lass who works in the fish market was wearing a jacket with a big Arsenal badge on the back. I doubt this girl knows who or what Arsenal is. Football is pretty unknown here but she wears it anyway.
This reminded me of something I haven't mentioned before. T-shirts are mass produced and many of them have English slogans or messages on them. Many people throughout Asia can't read English but wear them anyway. I've seen many mispellings. Funnier though is when you see totally inappropriate messages. I've seen very old ladies in Laos, Bali, Burma etc. wearing T-shirts with things like this written on them:
"Lick my p*ssy"
"F*ck off c*nt"
"Eat sh*t and die"
If you ever have the pleasure of visiting Khao San Road in Thailand or Kuta in Bali be sure to check out the T-shirt stalls. There are millions of amusing T-shirt designs. My favourite one was a picture of George Bush's face above a picture of a woman's nether regions - the slogan is "Good Bush, Bad Bush" Haha.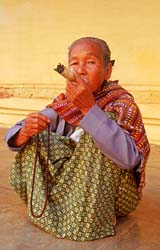 I was also thinking about how I haven't had a cigarette or drink for three weeks. This got me reminiscing about the old women in the fields in rural Burma who smoke massive tabs called cheroots.
Pretty cool eh?
再见